Feel like you are going round and round in circles?

Here's what I've learnt from #elfthemovie and how it can relate to staying positive, dealing with life events and overcoming #rejection when #lookingforwork
Here's my thoughts on spreading some positive cheer for all to hear in these testing times!
When you or someone in your network gets a job, CELEBRATE!
Be proud of who you are
Oh, it's not a costume. I'm an elf. Well, technically, I'm a human, but I was raised by elves.
Get excited by the little things
Good news! I saw a dog today!
Celebrate the small victories
You did it! Congratulations! World's best cup of coffee! Great job, everybody!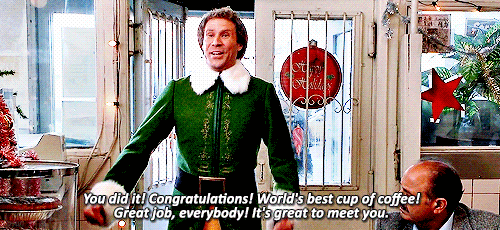 Stay positive
I just like to smile. Smiling's my favourite.
Nice purple dress. Very purpley.
Find time to do what makes you happy
I planned out our whole day. First we'll make snow angels for a two hours, then we'll go ice skating, then we'll eat a whole roll of Tollhouse cookie dough as fast as we can, and then we'll snuggle.
Bekind
I love you! I love you! I LOVE YOU!
There's room for everyone on the Nice List!
Does somebody need a hug?(Obviously a virtual COVID hug or Elbow bump)
You have such a pretty face. You should be on a Christmas card.
Failure is fine
Why don't you just say it? I'm the worst toy-maker in the world? I am a cotton-headed ninny-muggins!
Embrace technology and maintain an open mind to how it can assist you